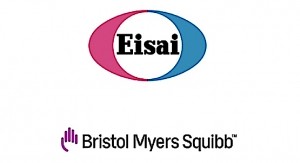 (Contractpharma)Eisai, BMS Enter Global Anticancer ADC Alliance
Eisai Co., Ltd. and Bristol-Myers Squibb Co. entered an exclusive global strategic collaboration agreement for the co-development and co-commercialization of MORAb-202, an antibody drug conjugate (ADC).

MORAb-202 is Eisai's first ADC and combines Eisai's in house developed anti-folate receptor alpha (FRalpha) antibody, and anticancer agent eribulin. It's a potential best-in-class FR alpha ADC with a favorable pharmacology profile and demonstrated single agent activity in patients with advanced solid tumors. Eisai is currently investigating MORAb-202 in FRalpha-positive solid tumors (inclusive of endometrial, ovarian, lung and breast cancers) in two studies: a Phase 1 study in Japan and a Phase 1/2 study in the U.S. The companies plan to move into the registrational stage of development as early as next year.
Eisai and BMS will jointly develop and commercialize MORAb-202 in the following collaboration territories: Japan; China; the Asia-Pacific region; the U.S.; Canada; Europe, the UK; and Russia. BMS will be responsible for developing and commercializing the drug in regions outside of the collaboration territories. Eisai will remain responsible for the manufacture and supply of MORAb-202 globally.
BMS will pay $650 million, including $200 million, as payment toward Eisai R&D expenses. Eisai is also entitled to receive up to $2.45 billion in potential milestones. The companies will share profits, R&D and commercialization costs in the collaboration territories. Eisai is expected to book sales of MORAb-202 in Japan, China, countries in the Asia-Pacific region, Europe and Russia. BMS is expected to book sales of MORAb-202 in the U.S. and Canada.